Built-in Reports
CAST Imaging has predefined reports that can be used to extract technical knowledge on the application structure. Access the reports menu by clicking Reports in the left hand menu bar.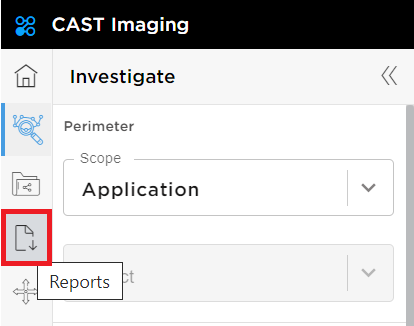 The available reports are listed below and are available in CSV, XLSX and JSON file formats.

Let's take an example: for the Recipe application, we're interested in knowing which are the most central artifacts in the codebase. In the Reports pop-up, we can choose the REFERENCES section and click on the XLSX download button.

CAST Imaging will indicate that the report is being generated, and once it's ready, the download will start automatically. The wealth of information that can be collected from those reports is quite significant.
Learn more on CAST Imaging built-in reports here.
Advanced search
Within CAST Imaging there is the ability to run ad-hoc queries against the CAST Imaging internal database.
Cypher Queries can be accessed through the Search menu on the CYPHER tab. Using Cypher queries requires knowledge on the Neo4j DBMS and its query language.
Learn more on CAST Imaging advanced search capabilities here.